Stage: Seed
Focus: Accounting & Tax
At the earliest stages, startups need to focus on getting their accounting and tax set up correctly, and implementing basic financial systems, controls, and reporting. This work is traditionally done by a bookkeeper or accountant.
Action Steps:
---
Stage: Pre-Series A
Focus: Modeling & Fundraising
The next focus is generally financial modeling, as companies build long-range plans to validate their business model and unit economics and prepare to raise their Series A. This work is often done by a CFO or VP Finance.
Action Steps:
Financial modeling and long-range planning
Revenue model and unit economics assessment
Prepare for Series A
Cap tables, valuation, and equity dilution
---
Stage: Series A
Focus: Financial Planning & Analysis
At Series A, startups should implement robust planning and reporting processes, whereby they establish financial plans, report on financial results against plan, and regularly update forecasts.
Action Steps:
Planning and forecasting processes
Financial reporting
Venture debt financial metrics / KPIs & data analytics
Sales compensation structures
---
Stage: Series B+
Focus: Scaling Strategic Finance
As companies move into later stages, their needs for additional strategic finance and accounting areas grow. Key finance needs for startups at Series B and beyond can include more detailed analysis of financial metrics and performance data, M&A, and international expansion.
Action Steps:
Continuous financial intelligence
Enterprise-level financial systems
International expansion
Audit prep
---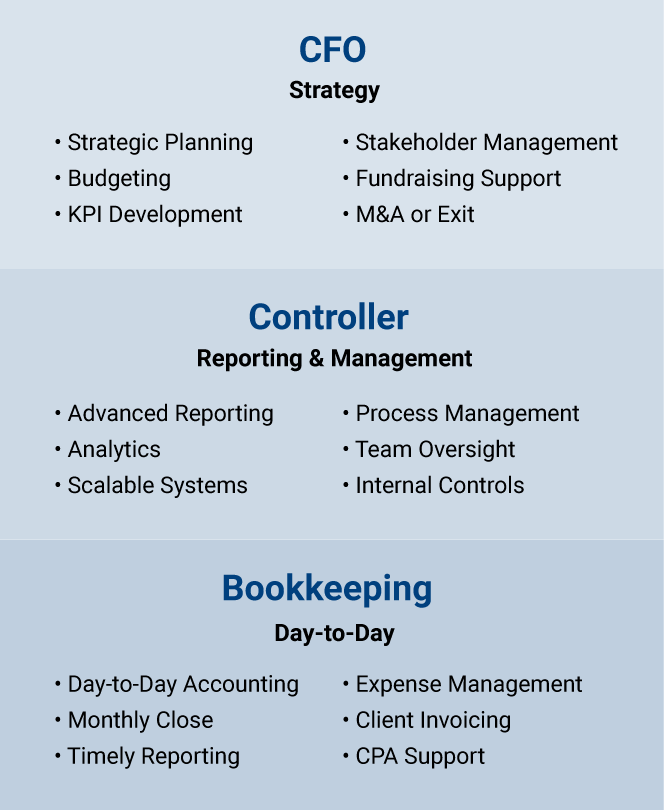 Burkland helps startups scale their finance systems efficiently and effectively through all growth stages. We work with startups to implement day-to-day bookkeeping processes, ongoing reporting procedures, and sound financial strategies for continued growth. Contact us to request more information about how we can help your startup.