As concern over global warming grows around the world, VC investment continues to accelerate in Foodtech. The sector positions itself as a sustainable alternative to the existing food ecosystem and promises a reduced carbon footprint. During Q3 2021, Food Tech QoQ deal value was up 48.1%, with $10.1 billion invested across 306 deals. YTD VC deal activity for 2021 has climbed to $28.8 billion, up 85.0% from 2020 totals.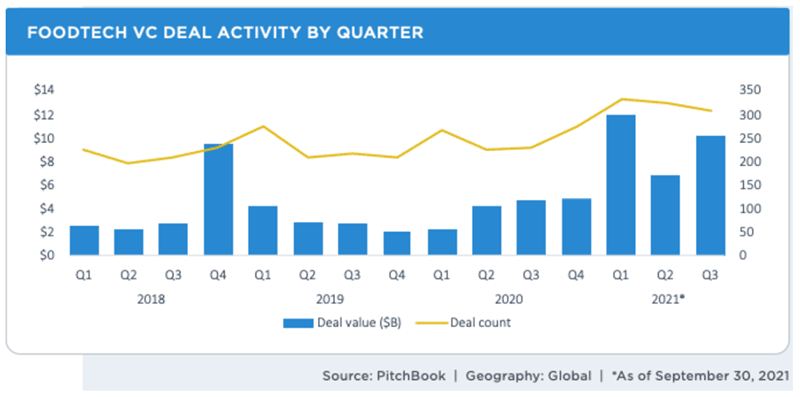 The flood of investment into foodtech has placed upward pressure on the deal size and valuation. YTD, the median late-stage deal size rose to $17.0 million, up 86.9% from 2020. Over the same timeframe, the median early-stage deal size climbed 53.3%. Investor enthusiasm for Food Tech is expected to continue well beyond 2022.
A Deeper Look into BioEngineered Foods Investment Fever: It Will Continue to Boil
Meat, eggs, and dairy, primarily from factory farms, have historically been the primary source of protein for people in high-income countries. Consumers are now becoming increasingly intolerant of factory farming's carbon footprint, health consequences, and inherent animal cruelty. Investors are backing innovative solutions that offer a sustainable alternative that promises significant waste reduction and a reduced carbon footprint. Bioengineered food entrepreneurs are stepping up to meet this pent-up demand.
Pitchbook divides Bioengineered foods into 5 distinct segments.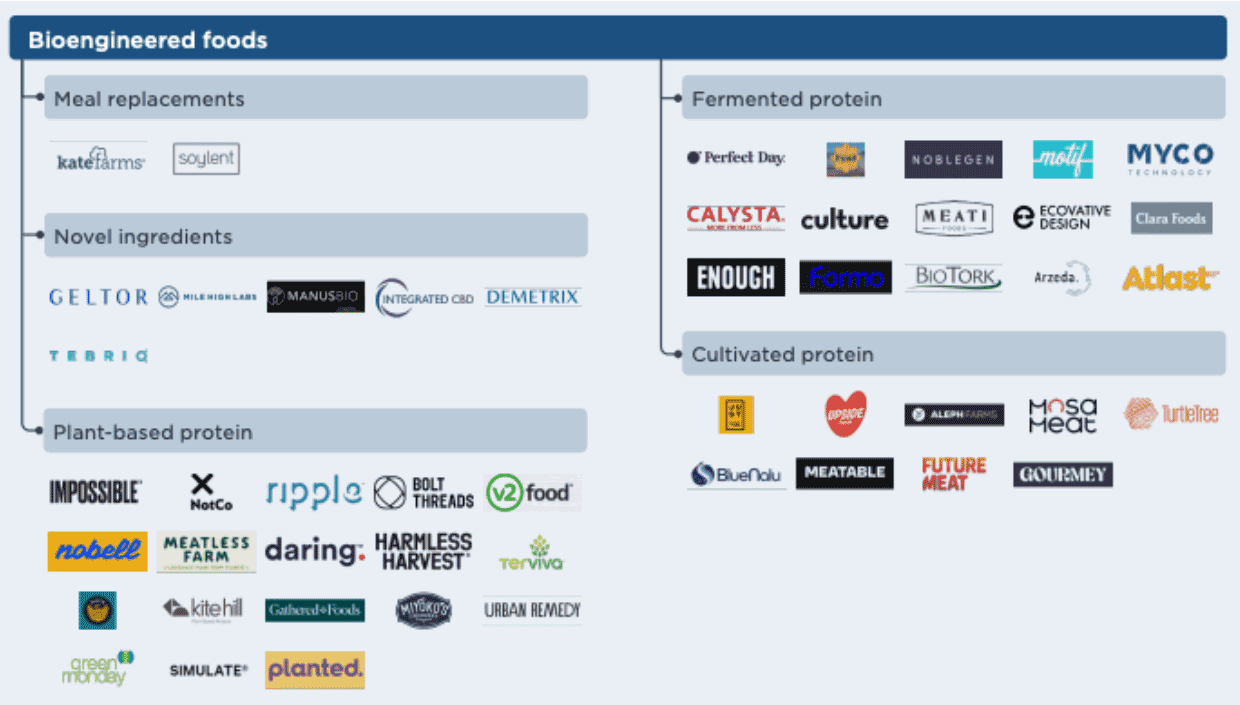 VCs invested $2.2B in Bioengineered foods in Q3 alone, which is 3x Q2's deal values of $752.6 million. Alt-proteins, and particularly Fermented proteins, were the primary draw within this segment. This was highlighted by fermented protein provider Nature's FYND closing a $350.0 million Series C in July in a deal led by SoftBank Investment Advisers and Perfect Day, a fermented protein provider focused on transforming microbes into animal-free dairy proteins, closed a $350.0 million Series D1 in September in a deal co-led by Temasek and Canada Pension Plan Investment Board.
On a YTD basis by segment, the Fermented protein category totaled $1.4 billion in venture funding, up 78.4% from 2020 year-end totals. The Cultivated protein category totaled $1.2 billion in venture funding YTD, up 171.2% from 2020 year-end totals, and the Plant-based protein category continued to grow as well.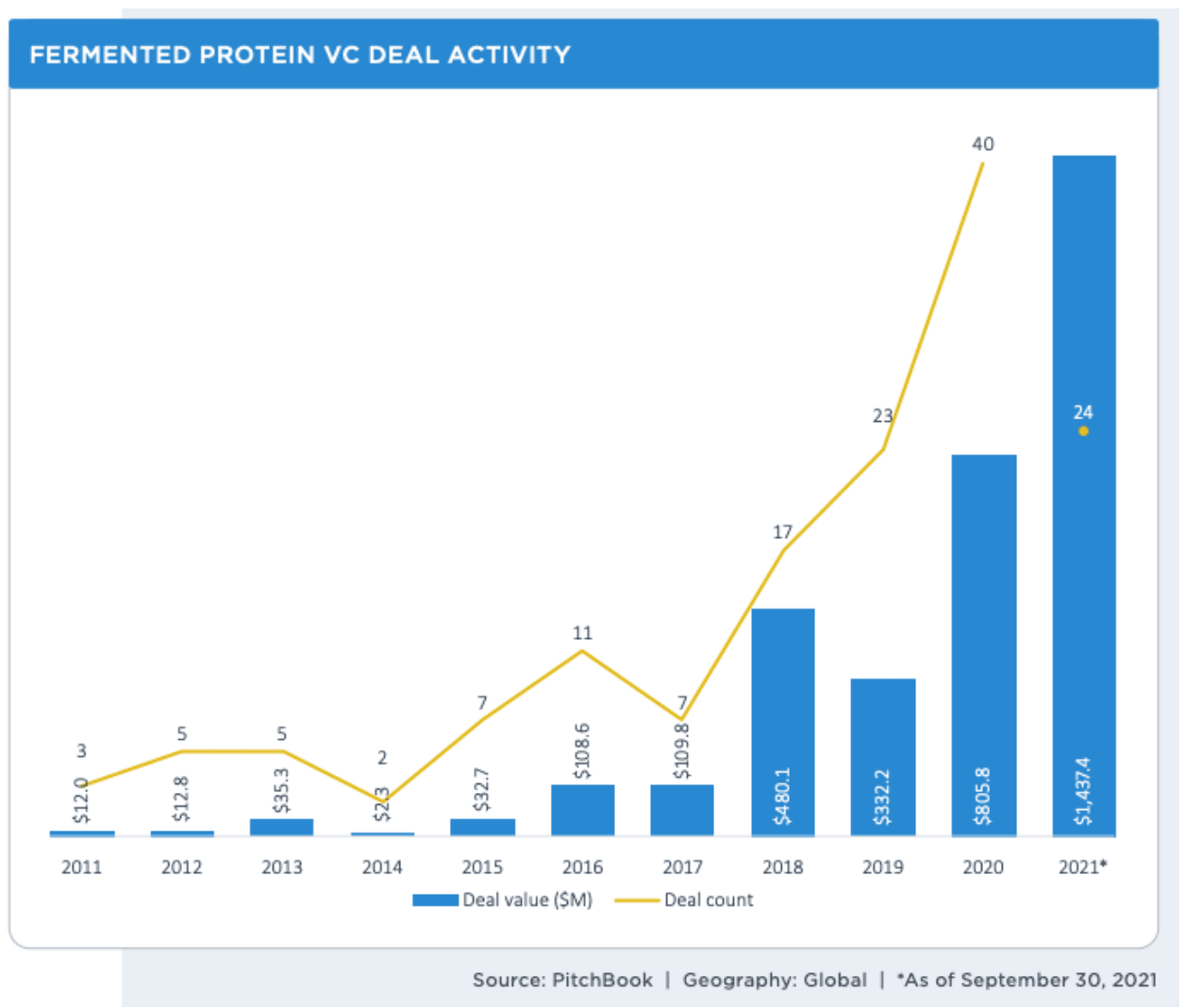 Conclusion
Over the past decade, close to 200 Alt-protein providers (Plant-based, Fermented, and Cultivated) have been incubating new technologies and products. As many near commercialization, funding of these categories will continue to grow as companies shift from product development to market launch and expansion. There will also be opportunities for new ventures supporting the BioEngineered Foods ecosystem.
For more support information on the Alt-protein revolution underway: